Best Opensource Software for Call Center USA 2022
What is a call center software solution?
Call center software makes the working of thousands of call centers convenient. Now customers can reach out to the company help desk via audio call, emails, or live chat. This has become possible because of software solutions. They make the experience enhanced and easy for both: customers and call center agents.
Opensource software for the call centers enables the agent to record calls, manage the data, have an automated call system and numerous features. Therefore in this article will discuss opensource software for call centers in the USA in 2022 and the benefits of using it. 
---
Also read: Insurance for Software Companies USA 2021
Opensource Software for Call Center for USA in 2022
Bitrix24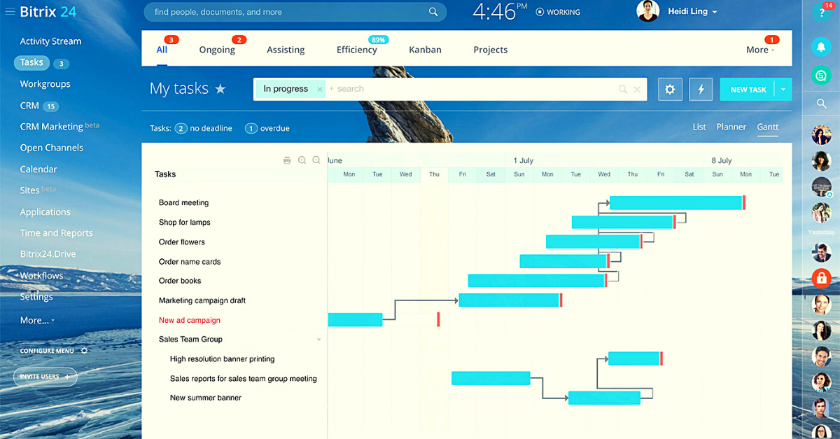 Bitrix24 is open-source software for management and communication. Through this software, you can manage your files, contacts, messages, and projects. There is a wide scope of features one can get with this tool. You can simply start with this tool by registering over the platform and creating an account. You can invite your teammates over this so that all the activity can be tracked and observed.
The major use of Bitrix24 is in CRM, planning, sales management, project management, and file sharing. The best part is you can have a mobile setup of the software for android or iPhone.
Features
Collaboration tools
Permission management
Control accessibility
Billing and invoice generation
Management of templates
Document management, Employee management
Mobile sync, Email integration
Drag and drop usability interface
Real-time activity
Gantt charts
Planning of projects
Workflow management
Activity management and tracking
Price
Free Trial
24$ per month with 2 users access
VICIdial
VICIdial is open-source software for call centers. It is one of the popular software for call handling. It allows handling inbound, outbound, and blended call handling. The operators can also use it from any location while sitting remotely. It is a cloud-based software for small to large-scale call centers. It works over skill-based routing and queue prioritization which takes care that customer calls reach the agent with the best support.
Features
During a call, there can be more than 3 customers/parties
Activity tracking
Call activity analysis
Auto rescheduling of calls
Automatic recording start/stop
Call sharing with different agents in real-time
Live chat
Workforce management
MySQL-compatible database
Data reports at real-time
SMS integration
Unlimited accounts of manager and agent
Virtual call center
Tools for TCPA, TSR, FCC, FTC, OFCOM etc.
Price
400$ per server per month -hosting fees
Ekiga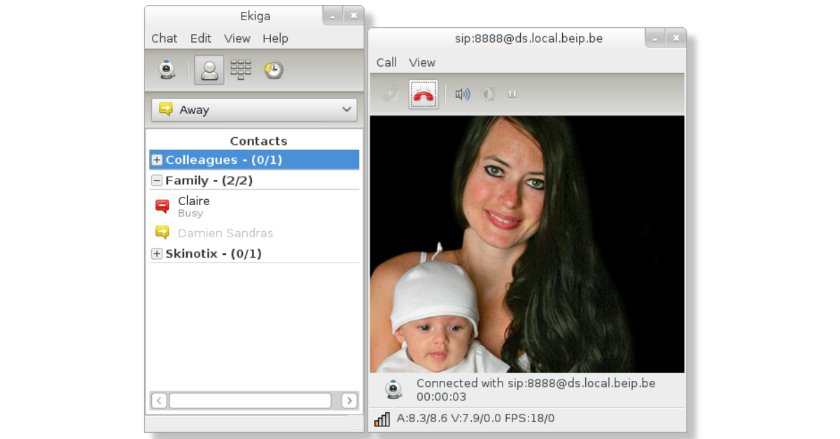 Ekiga is quite popular across the globe for its softphone, instant messaging, and video conferencing features. It supports HD sound quality.
It has multiple usable features with be an honest user-friendly interface. And you will also get a SIP address, that too free of cost.
Features
Multi-platform tool. That is, can be used on Linux as well as on Windows
Modern GUI makes it easy to operate
Free audio and video call using the internet
HD sound quality
Cell phone SMS
Call monitoring
Basic call features like call hold, transfer, forwarding etc.
Makes use of the standards for telephony protocols (SIP and H.323)
Local address support
Echo cancellation
Price
Reach out to the official site for price features
LINPHONE
The phone is a voice-over-internet(VoIP) system with web-based operation as well as on-premise. It is mostly suitable for healthcare, telecommunication, and manufacturing industries to operate via text messages and audio/video call with clients. Linphone users can receive incoming calls, messages, and notifications.
Features
HD video call with preview system
Instant messaging
Enhanced audio quality that works on jitter buffer algorithm
Complete secure communications
Manage contacts easily
Real-time notification
Management for multiple calls at a time
Audio conferencing with up to 8 participants
Intelligent searching option
Price
14.99$ per user
Asterisk
Asterisk is one such platform that works as an ideal choice for call center solutions. It is considered as the best Opensource Software for Call Center for USA 2022. It has fine management of tasks with its advanced functions to make the workflow easy and smooth. You will also get low maintenance with easy integration with other hardware. It is widely used by small or big call centers, agencies, and businesses globally. According to current data, there are more than 1 million communication systems based on the Asterisk platform. It works as a complete phone system for businesses and also operates to enhance the system. The best part is Asterisk is designed by developers for developers. 
Features
Remote access
Different system integration
Management of call activities like monitoring, recording etc
Quality assurance call recording
Automatic call dialling
Live call transferring
Caller identification information before answering
Computer integration
Call distribution across the call center
Price
595$ with a free trial
---
Best features of Opensource Software for Call Center USA 2022
Collaboration tools: Most of the software provide the feature of collaboration or integration with multiple devices for better activity management.
Real-time activity: Provides notification and updates for the current time to maintain the workflow.
Live call transferring: It allows to best solve the customer's query by transferring the call to a different agent or senior attendant.
Call monitoring: It allows to work for improvements and system upgradation.
Document management: Helps to manage multiple files, documents like call list or contacts data.
Auto rescheduling of calls
Workflow management
Allow evaluation of employees performance
Interactive and enhanced voice calls
---
Opensource call center software benefits
Customer experience becomes more enhanced. It's one of the top priority of every call center. According to data, more than 865 customers are willing to pay extra for a better customer experience.
More security for data safety. Call centers store huge amount of customers personal data. And due to any error or software issues, you can lose it completely. Therefore security is a major concern for call centers.
Multi support: Call centers are not only about the phone call. You will also be contacted through chat support or a mailing system. At this moment, great software makes it easy to accomplish and provide a smooth user experience.
Team feature and Activity control: Most of the software has a team feature where anyone can update their progress or track activity control. It integrates the team for features like conferencing.
Cost deduction: Time is a major factor for all call centers and one can't afford to waste it for some basic jobs. The software helps to manage the complete system and gives efficiency to the employees. It helps the agent to perform according to their capabilities without downgrading.Opensource Software for Call Center in USA 2021 will help the businesses to expand more with automation power.
---
Final thoughts
We have gone through multiple opensource software for call center for the USA in 2022 that are really working with the best outcomes and features. Embedding software into workflow makes the process to be automated and efficient. So start selecting some amazing tools for your business.