Best Small business credit unions USA 2022
What is a Credit Union?
The credit union is a financial organization, cooperative and not for profit owned by its members. Credit unions offer better rates, services and banking tools as they don't turn a profit. Therefore small business credit unions more reliable than banks for their financial services. This article well discusses credit unions, different credit unions for small business and banks vs credit unions. Small business credit unions in the USA in 2022 are an important role player in terms of finance and growth.
When you apply for a credit union you become a member of it who can be a board's volunteer. The best reason for credit unions is, they offer high loan amount at better rates. This makes credit unions the first choice of small businesses. They offer wide banking tools and services for more convenient banking solutions.
Also read: Insurance for Software Companies
---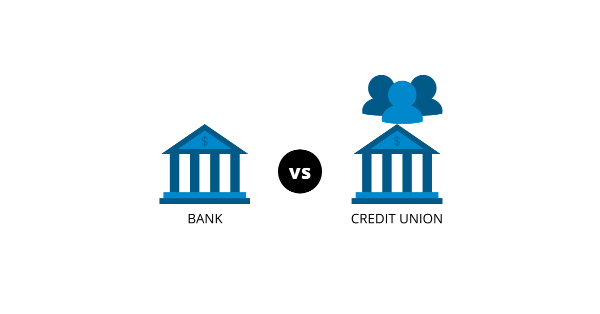 Banks vs Credit Unions
The most important difference is, profit and non-profit. Their profit status is what makes them completely two different parts of the banking system.
Banks are owned by a public or private organisation that means they earn a profit, whereas credit unions are non-profit.
In credit unions, members earn more interest rates on savings accounts (APY), less interest rates on loans and high loan amount. Whereas banks are contrasting to this scenario.
Credit unions are owned by their members based on various factors like the same organization or community or faith. Being a non-profit organisation, they are exempted from various taxes and receive subsidies. Whereas banks have to pay the described tax as well charges the rates from customers as well.
---
5 Credit Unions for Small Business in the USA in 2022
If you want to get something best from your banking part of the business, credit unions are one of the best ways. Here are the best 5 credit unions for small business in the USA in 2022.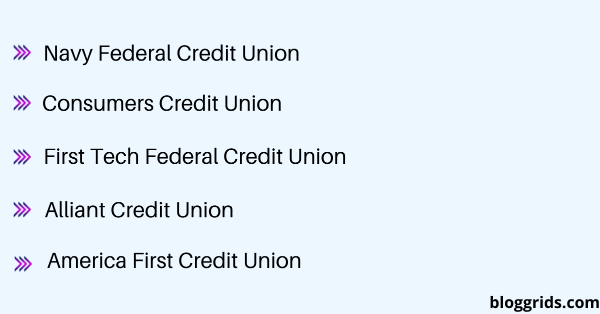 Navy Federal Credit Union(NFCU)
In short:
For armed forces service members and families only
Offers visa and master card
Complete range of services for small business
Effective rates on business accounts
Navy Federal Credit Union is the largest credit union in America that has lots of services to offer.
Credit cards
Savings account
Checking account
Certificates and many more
NFCU has around 10 million customers and has a great market value. It is a tough competitor in small business loans with the best banks in the country. Therefore a question arises, for whom NFCU is?
It's the best credit union for people:
Who are part of the country's armed forces
Wants simple banking account that yields interest
Wants credit union as a full service for their banking requirements
NFCU can be one of the best banks for all your needs if you are eligible for membership. It is one of the best ways for your business banking and savings. Although it's quite big, there are not enough branches to offer wide location services.
Consumers Credit Union
In short:
Equipment financing
No annual fees on Visa platinum card
You can have multiple checking accounts
Security or fraud activity monitoring
Consumers Credit Union is another credit union for your small business in the USA in 2022. The major advantage of Consumers Credit Union is its checking accounts that offer high rates of 4.09% APY and above. Unlike NFCU, anyone can have an account in Consumers Credit Union. All you need to do is become a member of the Consumers Cooperative Association by paying just 5$. That looks great! Yes, it is actually.
You will get multiple banking options for your small business ranging from checking accounts to money market accounts. Consumers Credit Union is best for people who wants great interest rates and get awards in the form of ATM fee refunds. You can also get an equipment financing service for as long as 25 years. This is what makes it the best choice for small businesses.
First Tech Federal Credit Union
In short:
Multiple free checking accounts.
Mobile features
High loan amounts for real estate
As the name itself speaks, First Tech Federal Credit Union is for those who want to include tech features in their business banking. It offers three options for maximum savings with the rate of 0.15% APY on a savings account.
The idea is, First Tech Federal Credit Union offers great checking accounts options along with an interest rate of 1.00%. This applies if you are qualified under certain requirements. In terms of the loan, it's for real estate people, however, the loan amounts are much better than many credit unions. If you want money, you can get business credit cars to get maximum rewards.
Alliant Credit Union
In short:
Easy account joining
Credit cards rewards and cashback
Loans for commercial real estate
Better checking and savings account interest rates
Alliant Credit Union is an online banking union for businesses with a range of products and services. It provides amazing APY on a savings account but is not effective for business accounts in terms of the rates offered. It offers 0.55% APY on high savings account and better rates on checking accounts. Alliant Credit Union offers an impressive mobile banking system for customers who feel better with digital banking. The high rates in savings accounts make it easier for completing the saving goals. It has more than 80,000 free locations ATM. Alliant Credit Union offers wide services beyond banking services like,
Loans for home and vehicle
Personal loans
Credit cards
Insurance-Life, auto and home
Trust accounts
Custodial accounts
If you are looking for a loan, commercial real estate loans are the only business loans offered. In terms of credit card rewards and cashback is what make it unique.
America First Credit Union(AFCU)
In short:
Get several Checking and savings account
Available only in certain regions
Digitally access
AFCU is one of the finest credit unions in America. It offers a wide range of checking accounts you will not find anywhere else. There are multiple savings account options for maximum savings. The best part is, AFCU offers a deep selection of finances. Where you can make money for business activity, equipment, real estate, and many more. All these factors make it the top choice of small businesses. It's not over yet, it offers digital banking or mobile banking and available in100+ locations makes it more convenient for the user. The only factor which causes disadvantages is the eligibility criteria. Those who live in Arizona, Idaho, Nevada, New Mexico, Oregon, and Utah are eligible and work for certain employers are eligible.
---
Pros and Cons for Small business credit unions USA 2022
---
Conclusion for Small business credit unions USA 2022
Small business credit unions in the USA in 2022 are an important part of their financial management. We have discussed the pros and cons of credit unions and what are credit unions actually? Best credit unions in the USA for your small business and savings. We hope that you have gained great information from this article. Reach out to us for any further query.