Best Powerful Social Media Content Strategy USA 2022
A few years back we used to think of social media as a new moderator. Now it's real. We have super powerful social media that is working in real-time for marketers, influencers, and every next person. In this article, ill tell you how you can build up Best Powerful Social Media Content Strategy USA 2022.
There's a lot of confusion when we think of how to get better at social media content or how to grow? You will find the answer in the article below of what are the steps you should follow to get much better at content strategy.
---
Also read: How to Create eCommerce Website with WordPress
Best Powerful Social Media Content Strategy USA 2022
Identification and Setting Goals
While starting with anything you need to have an idea of what you want to achieve and identifying them. without identification of goals and targets, the efforts will not be effective. That means you will work blindly and that's not how the goals will be achieved.
---
Setting goals means identifying the ROI of your strategy. Do you know what are S.M.A.R.T goals?
If you are unaware of the S.M.A.R.T goals, it means,
S: Specific. You must have specific goals of what you want to achieve from your social media strategy. Having super-specific and focus-centric goals are genuinely required while you are planning your content strategy.
M: Measurable. You should measure the progress of efforts timely to make a check of the achievement of the goals.
A: Attainable. The goals that you have set must be attainable in reality. This means that must be something realistic that you can achieve in your life.
R: Relevant. There must be relevancy in the goals achieved. They must be relevant according to your current objectives.
T: Time-bound. Until and unless there is a time limit the goals will never be achieved. Having a fixed time limit makes you put more effort to achieve them. Time makes you more focused on the fulfillment of your goals.
Your goal-setting journey should be based on the above factors. This will make it more effective to work upon and in its achievement.
---
Posting Time and knowing the Audience Profile
As the heading speaks, "when to post" and "knowing about your audience" is the basic yet important step to be aware of. Implementing factful and targeted efforts are more fruitful than random approach implementation.
---
Like you have noticed there's an insights section in your,
1. Instagram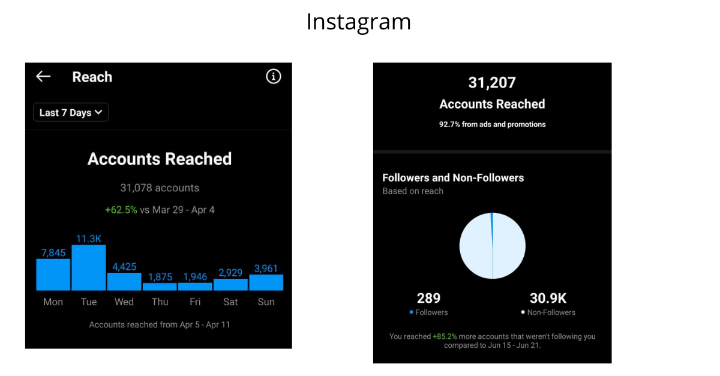 ---
It shows that when your audience is most active, and the age group, location of your audience, and many more. These factors help to drive an insightful approach for your content planning. The best part is every social media platform is building an insights section, it may however depend on the type of account you are using.
---
2.Twitter
---
Here Twitter offers an ANALYTIC option where we can get insights about the social media content of our account. Just click on the Analytics option on the left panel of the Twitter home screen and you will reach the insights section. Here click on the tweets section to know about the insights related to the tweets that you had made.
With the help of this, you can get an idea about the tweet's performance and the audience pattern.
---
3.LinkedIn
LinkedIn also offers an analytic option for the company profiles. If you have a business/company profile you will get the Analytics option.
Head on to the follower's option and you will be able to see the insights, follower metrics, and demographics.
---
Here you can analyze the following data:
Follower metrics
All followers
Follower Demographics
Companies to track
---
The follower Demographics section is highly valuable as it helps you get deep insights about your followers.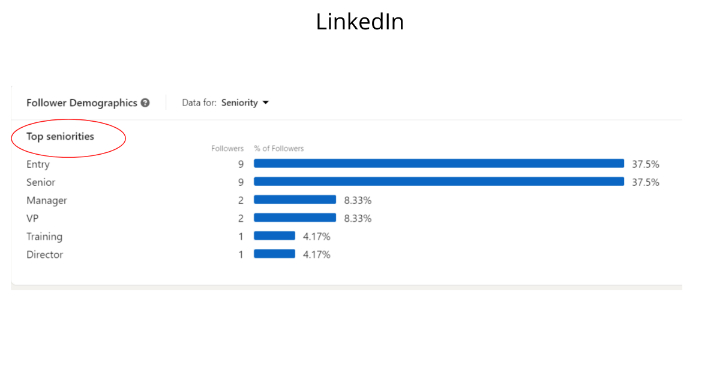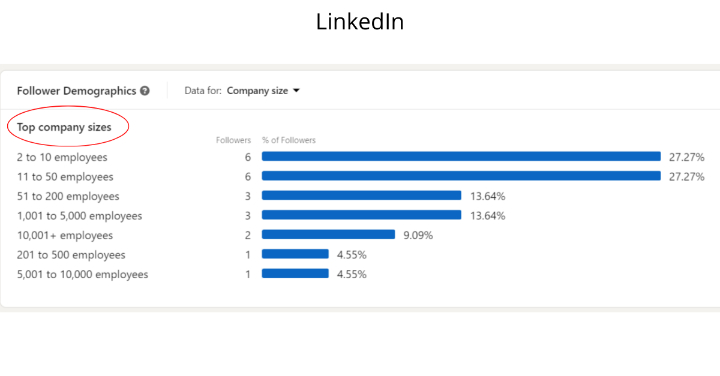 ---
4.Facebook
---
Other social media like youtube also provides insights but the above-mentioned are more focused and powerful.
---
Selecting Right Platform
There are more than 30 social media sites you have in the world of the web. But is every platform is for everyone? The answer will be no. As a user, we use a maximum of 3 to 4 social media sites majorly daily. Out of which may be there 2 platforms used most of the time. I use Instagram and LinkedIn the most out of the 4 social media platforms I have. That's how you need to be specific for your social media content distribution. Getting ahead with the right platform is an important step for implementing a Powerful Social Media Content Strategy.
---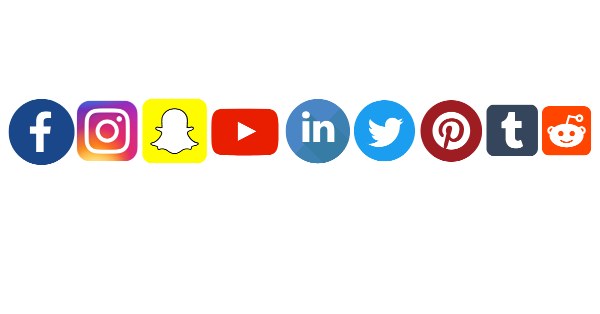 ---
You need to identify 1 or 2 social media platforms where your content will outreach to the maximum. This means where you can get the best result from the efforts you put in.
---
You can do this by deciding the goals and type of content you'll be publishing in the future.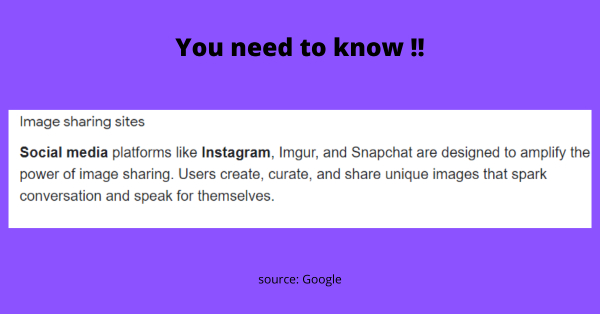 The above image shows that IG or Snapchat is best for sharing images and now IG has reels too. This is growing superbly.
---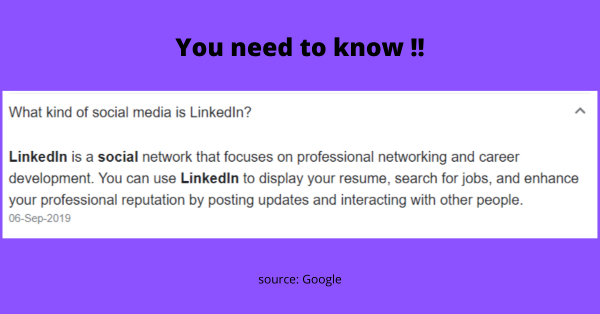 Similarly when you search for LinkedIn that it's more of a professional kind of platform. So if you have something career-oriented or a business or company LinkedIn will work great for you.
---
YouTube is the most used search engine standing at 2nd position after google.
---
Plan the Type of Content or Formats for Posting
Different social media channel requires different types of content to be posted. You need to plan out the content that you want to share with your social audience. The great strategy starts when you design a plan for content sharing according to the audience base.
Your content can be a simple image format, or type of sales product, motivational message, or short videos format. However, you need to create a balance between formats of different kinds to make sure the audience is getting the right value. You can convey the message using content formats like:
---
User-generated content
Contests
Live Streams
Case studies
Influencer marketing
Content moderation is what you need to work upon to drive more engagement and deliver more information and values. Each form of content has a unique significance and must be used while designing your content.
---
Create a Calendar for Content
Do you use calendars for marking out important dates? Yes in the same mode you need to brief content for your content. For example, you have to launch a new product for your company so you'll be needing some graphics and videos for communicating about that particular product. Therefore a content calendar plays an impeccable role.
---
Benefits of using a content calendar:
Completion of social media content creation on time
The team will be aware of the deadlines and the future goals
Motivation among the team for perfect task completion
Content will be more organized
You will be on track with all your social media planning and executions.
---
Content Publishing
This step creates a problem for many marketers and social media guys. Posting content on social media consumes a lot of time and that is where we can use schedulers. There are many useful content schedulers in the current time:
Sendible
Agorapulse
SocialBee
SEMrush
MeetEdgar
SmarterQueue
Buffer
There are many more scheduling tools apart from the ones listed above.
---
Once you connect your social accounts with any of these schedulers you can directly schedule them according to your audience timings. This will delete the failure case of content publishing at the proper time. Therefore the productivity will increase and efforts will be reduced. Yeah! Now you are much ahead of people who aren't scheduling their post and lacking at the part of publishing the content.
---
Content Analysis (Best Powerful Social Media Content Strategy)
When you are done with every step listed above the last step is the analysis of the content published. The goals you have set while identifying the goals that you must focus on at this step. Like you have set a goal to increase the engagement rate for an account. So you just need to analyze the respective area and check for the ROI.
---
The best procedure is to analyze the performance on weekly basis against the goals that you have set.
If there's a need for improvement or modification in case the goal isn't achieved, you must be centered over that area. You need to compare the performance of your content with the benchmark that has been fixed in the first step.
---
Best Course on Social Media Content Strategy
Start with this course and build an amazing social media content strategy for massive success. This course is provided by an expert having 10+ years of experience in marketing and designing.
Here you will learn :
How to build great strategy for content for fb and instagram
Target indentification
How to set goals and measure them
Customer research
Content planning and organizing
---
Who can take this course?
Beginner in content marketing and social media
Freelancers
Business owners
Digital enthusiast
Copywriters
Learn More !!
---
Conclusion for Best Powerful Social Media Content Strategy
Here in this article, we have understood the steps that need to be followed to build a powerful social media content strategy and get actual results. There's no joke, that social media is what our brands need right now, whether you are a solopreneur or team of 100, you need it in every way. So are you ready to start with social media and go through the right channel to maximize growth?