Best WordPress Amazon Affiliate Plugin USA 2022 | 49$ | 33,716 sales | Buy On Envato
WooZone is an amazon affiliate plugin for WordPress. It has its own unique system that interacts with Amazon, as its specially designed for amazon affiliate. It does the same job of importing products to your WordPress store as many other affiliate plugins. But there's much more to WooZone functionality and features which makes it a popular one. WooZone was started to build in the year 2012 and since then its the most loved and popular plugin for Amazon affiliates.
Here in this article, we'll discuss Best WordPress Amazon Affiliate Plugin: WooZone, Working, comparison, and features.
Now, let's move to the main components of this article.
Also read: How to Create eCommerce Website with WordPress?
Who can use WooZone?
As we know woozone is a plugin for Amazon affiliates(Amazon Associates Programme) that allows importing Amazon products into a WordPress site. It uses an API for importing the products into the site. Therefore this plugin is for those who want to start amazon affiliate marketing, bloggers starting to sell products on their site. Anyone starting with the Amazon affiliate program can use it. It offers wide functionality which makes it easier for everyone to set up an online store.
---
At what cost you can get WooZone?
WooZone is a separate plugin that can work with almost every popular theme including some popular themes as well. It is available to purchase in two formats: only plugin and the bundle pack
WooZone plugin costs around 43 USD whereas bundle pack cost around 70 USD but includes more features.
---
Why is WooZone so Unique?
It's because of the features it offers and updates for a lifetime.
Features of Best WordPress Amazon Affiliate Plugin:
Amazon associates earning report
Amazon products synchronisation
Easily import products
Dropshipping by WooZone
Remote images
Direct checkout and on-site cart
Product statistics
WooZone PA API 5 compatibility
Products import setup
Amazon reviews
Use products in site posts
GDPR
Debug console for Amazon
Auto import products in Amazon
The features it offers makes it unique in the world of affiliate plugins and beats the competition with high scores. It's the best amazon affiliate woocommerce plugins you will ever find.
WooZone provides free updates for up to 6 years which makes it more beneficial in the long run.
---
The requirement to use WooZone on your WordPress Site
WooZone is a plugin for Amazon affiliates, so you must have an account on Amazon affiliates. The second requirement is woocommerce must be installed on your WordPress site. Another important requirement is the Amazon associates account must have proper API details.
The specifications required for woozone is:
Woocommerce 2+
WordPress memory allocation 128Mb
WordPress 4.0+
PHP 5.6+
Till now you have got a clear idea about the unique features of WooZone. Therefore there are some unique themes designed for Amazon affiliates WordPress plugin.
Kingdom– 100% WooZone friendly, WooCommerce Amazon affiliates theme, WZone Gutenberg Optimized Theme
---
Bravo Store-100% WooZone friendly, Unique features, Amazon Affiliates theme
---
How to Install WooZone Plugin?
After purchasing the WooZone plugin from it will get downloaded into your system. Then you need to install it into your WordPress site, for which there are two methods:
Method #1
Uploading from WordPress
If your hosting provider provides you with enough upload space and you can easily install it into your WordPress site without space issues, then this method is for you.
It will make use of your WordPress dashboard. Follow the below procedure.
Log in to your WordPress account
Open dashboard
Go to the Plugins section
Click on Add New
At the top, you'll find an option of Upload Plugin
This box will appear when you click on the upload plugin. Choose from the downloaded file and upload it here. And here we are, your WooZone plugin is installed successfully on your WordPress site.
Method #2
Uploading from C-panel
Login to your Cpanel provided by the hosting provider
Go into the File manager
Find the folder named "wp-content"
Go to the plugins folder
Click on upload at the appearing at the top of the page
Select file
Go to the file where you have extracted it and open it
Select the plugin option inside that file
You'll find another zip file, click on it
This will get uploaded on the C panel.
After the complete uploading again, go to the control panel's file manager inside the wp-content and plugins folder. The uploaded ZIP file will be shown here. Then right-click on the file and click on the Extract option appearing. Then a dialogue box will appear with some links written in it. Add one "/" at the end and write "woozone" -> click on extract files.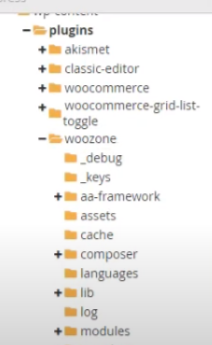 In the end, the woozone will appear as a file in your plugins section. On the left side, you will find a list of all the files and folders in your file manager. All you need to do is, select all the files from the woozone folder and drag them to the left side list under the plugins section.
The methods to install WooZone(Best WordPress Amazon Affiliate Plugin) work perfectly but only differ based on the hosting provider. If you don't have enough space on your hosting for uploading hosting provider's support to support the hosting provider and ask for the increment of the same. Or you can also shift to some other service provider.
---
Inside Representation of Best WordPress Amazon Affiliate Plugin: WooZone
This is how after installation WooZone will appear in the WordPress dashboard.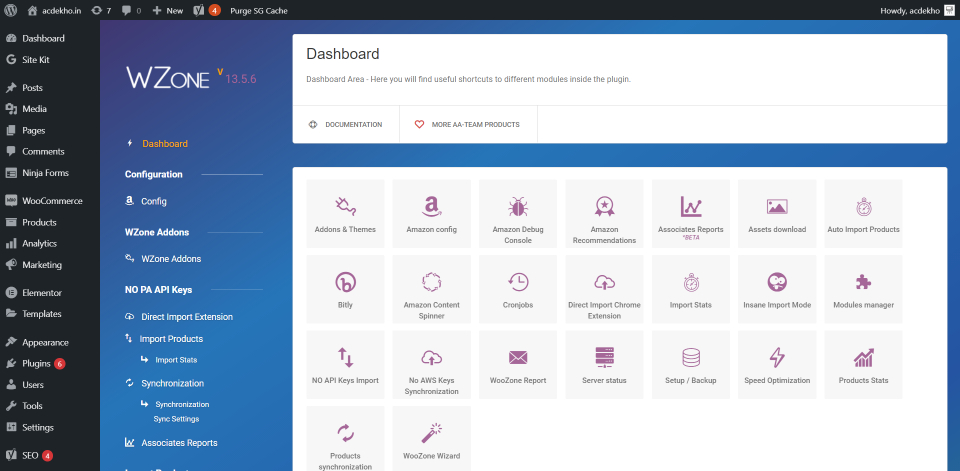 This is the dashboard of WooZone where you can see all the features of the plugin as described above.
To add products select the option "Import products" and now you can directly import products from Amazon using WooZone.
To learn more about direct import. Read this.
---
---
Conclusion for Best WordPress Amazon Affiliate Plugin
Here we have gone through a wide aspect of the Best WordPress Amazon Affiliate Plugin "WooZone". WooZone is highly preferred if you want to get the above great features. Moreover, it analysed that WooZone also helps to boost Google rankings. But you can also do it with some other plugins as well and that's not restricted to WooZone. But there's no doubt the functionality and convenience WooZone provides. So it's completely your call to get ahead with WooZone or not.