How to use Yoast SEO on WordPress USA 2022 | SEO Mastery course | 42$ | Free Preview
If you want your website to be powerful, easily customizable, and easy to understand in the backend, then WordPress will be the best option for you. Today WordPress sites are generating more than 4 billion page views for their users. Its more than 17 years WordPress is doing an amazing job in the world of websites. Here in this post, you'll learn How to use Yoast SEO on WordPress, features, and course availability.
Also read: Best Opensource Software for Call Center
The above data shows the sites using WordPress in the English language as the most used followed by Spanish.
There are more into WordPress that can enhance the functioning of a site, plugins. The plugins are certain small tools that can be installed into the WordPress system and help to boost the site's functioning. WordPress has a plugin for
Creating a slide show on your blog post
Buttons for social share
Plugin for search optimisation
Sharing stats
and many more.
---
Let's see some of the plugins in WordPress,
Most important plugins of WordPress.
These are some of the most basic and yet most important plugins a WordPress site must-have. Now, let's discuss the most popular plugin for search engine optimization practices.
---
What is Yoast SEO?
Yoast SEO is the number 1 SEO plugin for WordPress. Yoast SEO will help your blogs over the web to get more amazing results in terms of views, rankings, and much more. It lets you optimize your blog for keywords, keyphrases, and synonyms (premium feature).
---
Features of Yoast SEO
Improve readability of post and pages on your site.
Exactly tell Google about the page you have written.
Checks for internal linking
Optimise your post or page for a certain keyword.
Perform optimisation for related keywords. (premium feature)
Page preview for Google
Works in all WordPress editors
Full control over breadcrumbs
24/7 support for 1 year
We have understood the features of Yoast SEO to some extent. Now let's see how it looks in the backend.
Once you install the Yoast SEO plugin it will show here in the given format.
Yoast SEO will look like the above images when you'll scroll at the end of your page or post. Here you can find the first two options like SEO and Readability. Basically, the Yoast SEO plugin functions based on these two factors.
Here you can find the space to enter focus keyphrase or in simple terms, we can say focus word for which you want your current page or post to rank.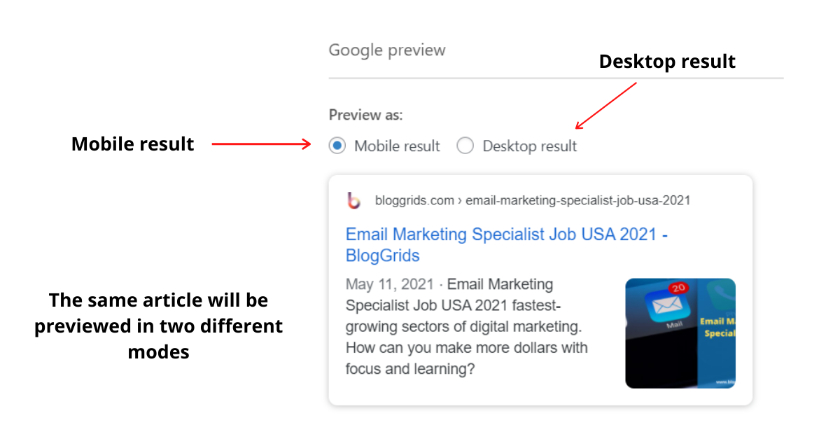 Then the option of preview in Google. Yoast SEO provides options for preview in two devices, desktop or mobile.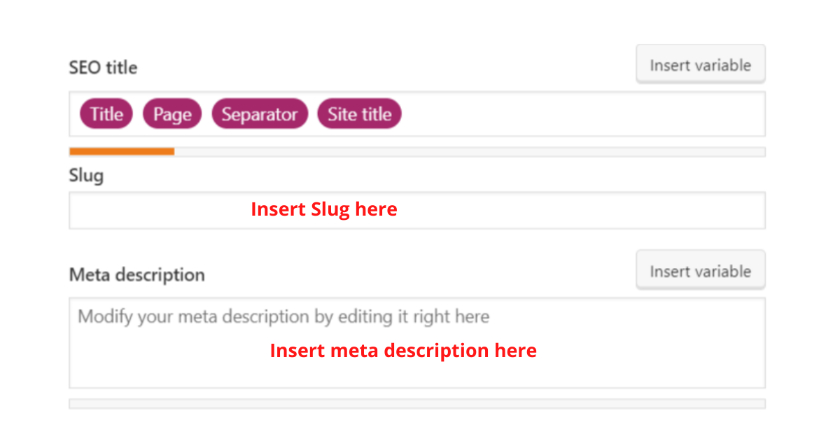 The above images show one of the most important parts of SEO. SEO title, slug and meta description works as an effective point inside Yoast SEO.
These are the backend representation of the Yoast SEO as it would look like on your post on page editor in WordPress.
Let's directly jump to best practices for Yoast SEO.
---
How to use Yoast SEO on WordPress?
Let's start with the Yoast SEO plugin.
Focus keyphrase
So according to yoast.com, the Focus keyphrase is the phrase that you want your page or post to rank for in Google or any search engine. It can be a single word also but usually, it's a collection of few words, therefore known as a phrase.
Google ranking is majorly dependent on the keywords that you use specifically for your post or page. You need to mention the most suitable keyword or on which your content is focused. Then after you need to optimize your blog post for the same keyphrase by using it in a different place in your post. The embedding of the Focus keyphrase will be based on certain criteria such as:
Post/page word length. The lengthier your content is the more frequency will be of your Focus keyphrase.
Using Focus keyphrase in the introduction paragraph of your content
Focus keyphrase in headings and subheadings. Try using focus keyphrase in the upper-level headings and subheadings.
Focus keyphrase in the meta description. Try to use the exact keyphrase in the meta description of your post.
What is a meta description? Well, see further in this section.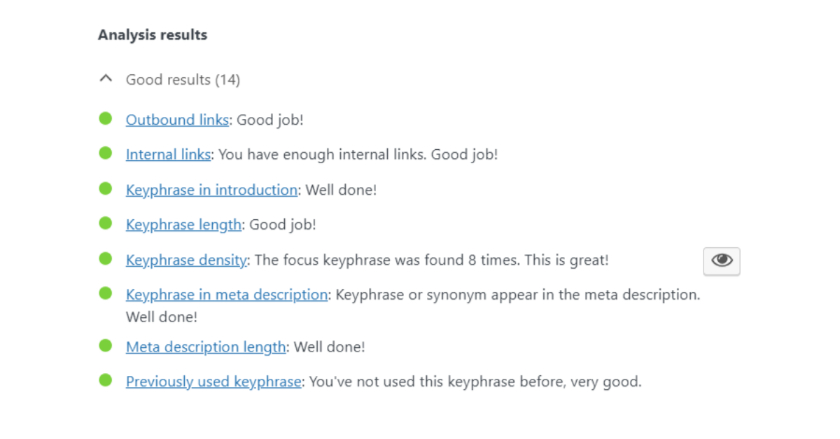 The above image shows how the instructions will look like in the SEO plugin.
Check out the given article for selecting the right focus keyphrase.
Then let me clear you about the SEO title that we have next.
SEO Title
This is a necessary and important part of Google rankings and you need to use it up to 60 characters in length. As in the search engine, Google will show the first 50-60 characters of the title tag. So the exact title must your blog is focused on must be present in 50-60 characters. The SEO title is an effective portion while we study How to use Yoast SEO on WordPress.
Now as we are complete with the SEO title optimisation, let's move to the slug.
Slug
In the Slug section, you need to put the URL in simple terms to make the viewer understand the motive of the topic from the URL itself.
Here as you can see the slug contains almost similar terms as of title. In this way, it clearly describes the motive of the blog post from the URL itself. You can use more easy terms in it, but for SEO optimisation, slug must contain a focus keyphrase/keyword.
Overall WordPress automatically fills this portion of slug, so you don't have to change it further. Let it be as it is.
Meta description
Now we have is the meta description. You have to use some words that must be 160 characters combined. So use them wisely to impress your readers even before landing on the page/post.
image of email post showing meta on Google /ss in mobile
Meta description is shown below the SEO title in the search engine. It describes the post/page content in few characters that are an important part of SEO.
Factors to consider while writing meta description:
Include the focus keyword or keyphrase
Use call to action
Your meta description must match your content. Don't try to give some out of the box meta description just for the sake of clicking. It will not work.
Make the reader curious by reading your meta description
We have more points while working with the Yoast SEO plugin. Those buttons that you can see must be green to have an effect on-page SEO. Although your SEO can be a different time like these green bullets can be red or orange when the instructions aren't met. So don't worry if such conditions, you need to decide on some characteristics for your posts' SEO.
---
More factors determining the use of Yoast SEO on WordPress
Linking: Internal and outbound link.
Image alt attributes -Images must contain the alt text which describes the nature or content of an image.
This is how ALT text options appear for the images used on the post or page.
---
Conclusion for How to use Yoast SEO on WordPress
We hope that this post has answered most of the questions that you looking for about Yoast SEO. Yoast SEO is an important and amazing tool for every WordPress site. It is the key player for optimising the site with perfect SEO.
Tell us about your experiences with Yoast SEO.
---
Are you stuck while learning SEO?
SEO MASTERY COURSE
Well, here's something amazing for you all. A perfect learning path for WordPress technical SEO is here. Here is what you can learn from great experts in this course. How to use Yoast SEO on WordPress and the technical SEO practices will be the main focus of this course.
How to choose the best plugin for SEO?
Different types tags
Sitemap creation
Domain structure
Link management
Learn More !!